Click-to-Call™ and Instant Call Connect Solutions
Phonon has been the pioneer and leader in providing Instant Call-Connect solutions including Click-to-Call™. Phonon has developed enterprise-ready customer connect solutions that are platform independent. These allow the users to connect to the company representatives through easy web-call-backs and get information at their fingertips.
Our SaaS based Click to Connect suite of applications including Click-to-Call™ has been designed to connect the end-user in real-time with the product/service expert. You can instantly integrate the Phonon's call connect applications with your existing online infrastructure and manage it from an intuitive admin console. All the application services are enabled via enterprise-grade security features that keep your organization protected.
Click-to-Call™ :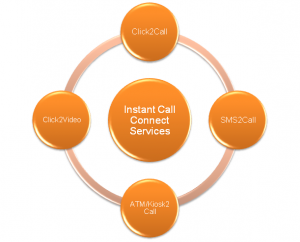 Instantly turn your web users to customers. Click-to-Call™ is one of the most innovative and flagship product of Phonon that instantly connects your customers with your representatives through the most convenient media – voice calls. Click-to-Call™ helps marketers to enhance brand loyalty by offering prompt assistance; deliver unified experience and optimize call center resources.
Benefits:
• Reduces call center load to 40% and staffing by 50%
• Improves call center Agent's efficiency and effectiveness with CTI pop-ups
• Increases Customer and Brand Loyalty.
Working Illustrations
Instantly turn your mobile users to customers SMS-to-Call is designed to increase the effectiveness of offline marketing campaigns. Users sending SMS to promoted numbers are immediately called by call center agents.
It helps marketers to accelerate the ROI for the marketing campaigns enhancing customer engagement.
Benefits:
• Rationalize your investment for quick customer connect within 3 Days
• 3 steps to easily convert mobile users to customers
Missed Call to Callback:
Instantly turn missed opportunities into customers
Missed Call-to-Call allows customers to send assistance request without incurring any cost. Agents are able to see numbers from where missed call are generated, live on their screen and can call back instantly to qualify the lead in real-time.
ATM or Kiosk-to-Call:
ATM-to-Call works again works on the same click to connect platform allowing all your offline leads to connect via instant call back services. It allows the customers to send request to the service provider without incurring any cost. Here the calls are connected in real time (5-10 seconds) removing all –offline components. It's a pull-based service that provides high conversion-potential having seen almost 50% increase in first time contact rates
Support for Multiple Help Solutions.
Support for Multiple Product Campaigns and Web directories.
Quicker Deployment Available as API, Widget, Web Form Plugin
Flexibility to Integrate with 3rd party Applications (CRM, ERP and Marketing Automation Systems)
High Level of Customization flexibility –Tailor-made Solutions to boost your brand.
Multi-Level and Heuristic Spam / Abuse protection against Automated Call Requests.
Real-time and Historic Reporting
Integration with Google AdWords, True-caller and Leading CRM Applications.