Computer Telephony Integration
Spearheading the Contact Center and Telephony Solutions Industry since its inception, Phonon offers a wide range of SaaS basedtelco-grade solutions for enterprises to bridge the gap between marketers and customers as well as optimize their call center resources.
Phonon's Contact Management and Unified Contact Center Enterprise CTI suite sets a new standard for true enterprise CTI by unifying the contact center systems from the network to the desktop — and across the enterprise — with minimal custom development or systems integration.
Phonon's CTI tool kit is accompanied with desktop solutions that offer customers a choice, ranging from out-of-the-box Computer Telephony Integration (CTI) solutions to pre-integrated solutions with leading Customer-Relationship Management (CRM) vendors, to desktop tools that allow for fully customized CTI implementations.
Major Attributes
Carrier-Class and Open Source Architecture
Complete Network-to-Desktop CTI Strategy
Fault-tolerant and Easy to Integrate
Unified CRM Connectors
Ready to Integrate CTI Toolkits
Application Services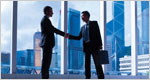 Call/Contact Center Solutions
3rd Party Integrations
Automatic CTI Popups: One of the most important aspects of a CTI implementation is the ability to provide caller data to the agent's application at the desktop. A screen pop enables contact center agents to handle calls more quickly, effectively and provide better service to the customers
Third Party Integrations: Phonon's CTI Toolkit facilitates server integration to provide a high performance, scalable, fault-tolerant, server-based solution for deploying the CTI application
Intelligent Routing Mechanism: Intelligent routing is based on the value of form-fields collected, such as locations and product types. Based on the values the calls can be routed to different call centers and / or sets of agents within the same call center.
Desktop Solution (with Soft Login Interface): In addition to server integration, Phonon offers a range of agent and supervisor desktop solutions to meet the varied needs of our customers.
Caller Identification, Monitoring and Real Time Reporting/Statistics: Our ACD has extensive possibilities for caller identification, flexible overflow pools, and music on hold, call monitoring (barge-in, listen) and is also enabled with real time reporting and robust in depth statistics.
Call Recording and Retrieval Features: Has built-in intelligence for 100% call-recording and retrieval features.