Automated Outbound Dialer
Phonon provides enterprises with the consultative solutions that help them to empower their businesses with the most convenient medium of interaction for their customers and employees.
Presenting Phonon's Automated Outbound Dialers(AOD) with feature – rich and out of the box functionalities. Our Pan- India presence and Unique Telecom Infrastructure enables our customers to set-up a campaign and call-out to their end-consumers within a matter of minutes
Major AOD Attributes
SaaS based Application
Flexible, Scalable and Easy to Integrate
Ability to bulk-call and inform users with on-the-fly and dynamically built messages.
Built-in Intelligence for setting-up custom rules
Application Services
Lead Generation and Payment Collection
Marketing and Promotional Campaign Management
Flight Reschedule and Disaster Management
Up-sell/Cross Sell of Products
Reach Customers with a Blast

Financial Services institutions looking to reach large number of customers within short time rely on Phonon.in. Outbound Dialer and Voice Blast solution enable the financial services institutions to deliver pre-recorded promotional/informational voice messages to the entire list of leads collected through specific campaign, without increasing the call center overhead.
Easily upload of customers list through Agent Portal
Pre-defined business rules
Predictive and Preview dialing
Voice messages in regional languages
Flexibility to record customer response through key-press
NDNC Compliance
Instantly Turn Prospects into Customers

Phonons'Instant Call Connect portfolio equips financial services marketers to reduce the time between lead generation and lead qualification. Marketers generating leads through website, SMS campaigns or Missed Call services can instantly connect to their prospects, leaving no window for prospects to switch to competitor website or help-centers.
Increase lead generation: 100%
Increases first contact rate: up to 250%
Time to callback prospects: 5 to 10 seconds
Outbound Dialer for Flight-Reschedule: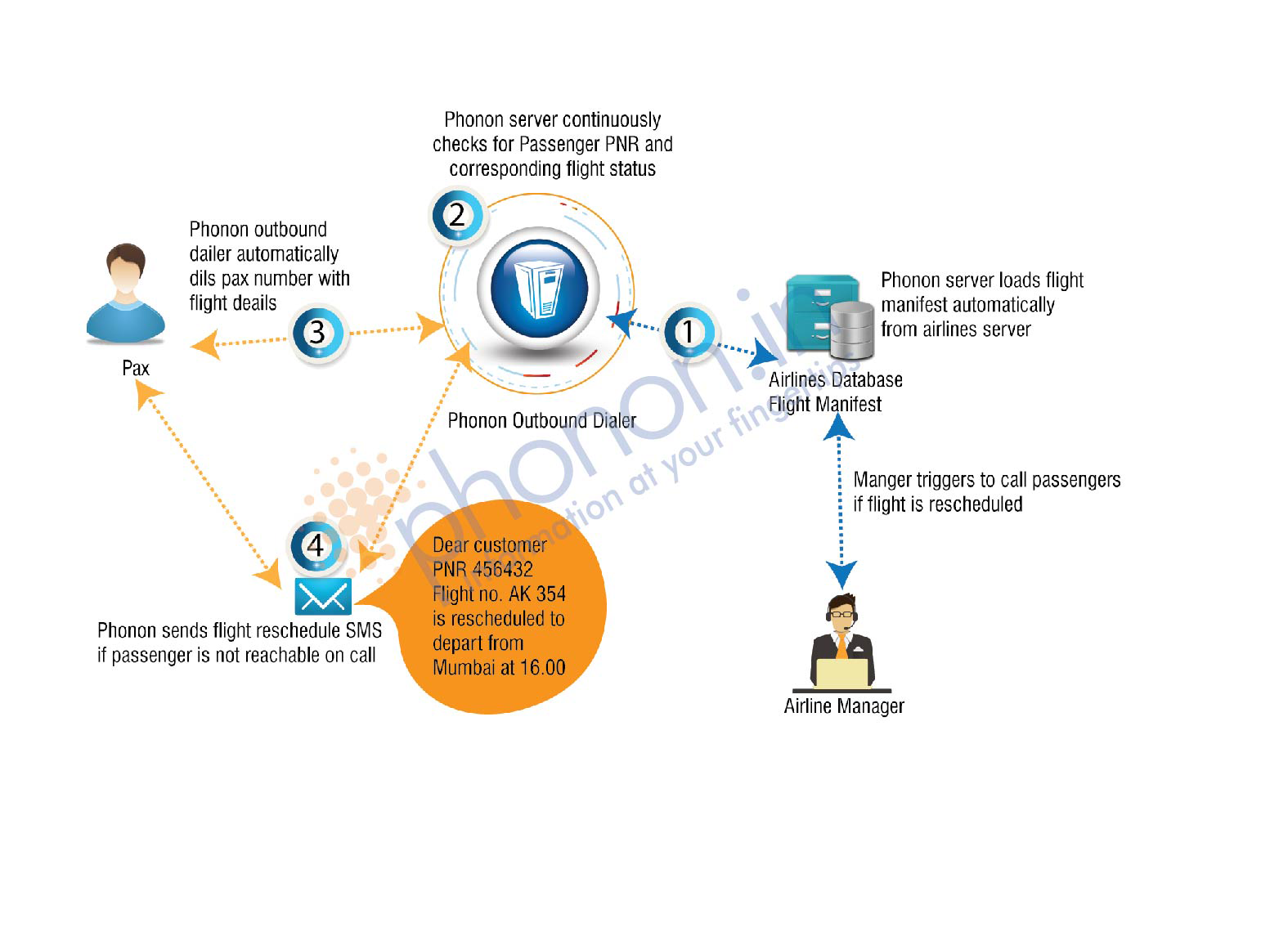 Phonon's Automated Outbound Dialer helps airlines to keep their passengers updated about any change in flight schedule.
Instant information to passenger for change in schedule or status.
Option to send flight reschedule SMS.
Additional ability to cross-sell services such as class upgrade or alternate flight in case of flight cancellation or reschedule.
Feedback SMS: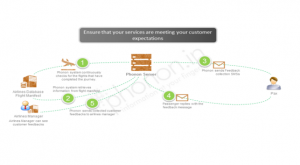 Phonon enables airlines to automate their customer feedback collection process.
Software-as-a-Service (SaaS) model
Create multiple campaigns for feedback collection
No need of dedicated Feedback IVR equipment
Reduce cost of customer contact
Integrate with informational IVRs
Integrate with call center
Pan-India Presence: Phonon's pan India presence through our own server sites and online capacity monitoring ensures that we give virtually unlimited capacity to our customers and rapid fail-over systems.
Multi Lingual Support: Our AOD suite is operational with support for multiple languages including (viz: English, Hindi, Punjabi, Gujarati, Tamil, Bengali, Kannada, Telugu, Tamil, and Malayalam etc.) Nevertheless, our product engineering team is also capable for developing highly customized scripts according to our customer's requirements.
Customized / Unlimited Call Handling Capacity: Our Automated Dialer Systems are scalable and robust enough to handle virtually unlimited simultaneous calls. Such a network for hosted voice services is unique to us in India. Depending on the customer's requirements the IVR can also be quickly customized and deployed.
Campaign Tracking and Reporting: Our unique and effective campaign tracking and monitoring mechanism allows the clients to track and monitor their ongoing and already executed campaigns effectively. It is also accompanied by a robust and real-time reporting interface. This reporting functionality is highly customizable and allows viewing and fetching of reports according to campaigns in real time.
Ready-made APIs: Our ready to use APIs give our customers the option of either loading a bulk-file offline on our server or loading the numbers individually or in bulk on specific events. This can be done using the HTTP / XML API service.
Unrivalled Security Measures:Inbuilt support for SSL sites through java script (no redirection to any 3rd party site, customer gets pop-up from your web-page only. Have added abusive (service misuse) control functionality etc.