Full Stack Engineer – J2EE / Asterisk
Summary
A Full Stack Engineer. If the words such as chat-bots, speech recognition, unified communication, customer contact automation motivate you. If you have strong concepts, understand the wide world of internet, are building or are keen on building a career in software engineering especially with Advanced Java, Telephony and Mobile Applications. If words such as webRTC, RESTful, VoIP, SIP, Advanced Java, GWT, Database, SQL thrill you then you are the Full Stack Engineer we are looking for.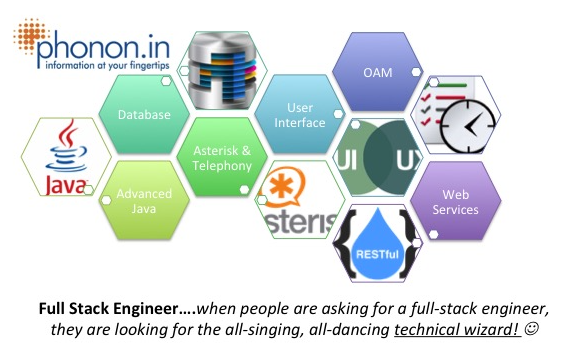 Job Description
Phonon.in is a leader in customer contact automation processes in the banking, insurance and aviation / travel industries. We have three components on our services:
Web Applications and iOS/Android Apps that give users control and configuration feature on our systems.
Middleware systems that integrate with various platforms of our end-users and customers.
Core systems such as speech recognition, chat bots, telephony and IVR systems that form the core of our products.
You will contribute to design, development, deployment and delivery of these solutions and products. We are looking at engineers and problem solvers and not mere developers.
You could have one of these key skills as a part of your services: 
Web application Java / J2EE, node.js, RESTful web services
Mobile Applications such as iOS or Android Design and UI/UX design including CSS
Telephony application using Asterisk configuration, AGI, AMI, IAX, PRI, VoIP.
Salary: Not a constraint.
Industry: IT-Software / Software Services
Functional Area: IT Software – System Programming
Role Category: Programming & Design
Role: Software Engineer / Senior Software Engineer
Desired Candidate Profile
Work Experience of 4 to 8 years required. Those with lesser experience can join us as Assistant Software Engineers or Trainees too!
Education: (UG – B.Tech/B.E. – Computers, Electrical, Electronics/Telecommunication, BCA – Computers) OR (PG- MCA – Computers, M.Tech – Computers, Electrical, Electronics/Telecommunication) AND (Doctorate- Any Doctorate – Any Specialization, Doctorate Not Required).
Other Skills
Excellent analytical and problem solving skills are important. You need to be passionate about developing products that provide great end-user experience.
Strong Fundamentals are most important. This includes having thorough knowledge in one or more of C, number systems, J2EE (including JDBC, JAXB etc.), Google Web Tool kit (GWT), databases (MySQL / MS SQL), application servers (Tomcat / SSL), Telecom scripting tools, TCP/IP addressing, sockets, Linux and Shell scripting. Experience in Telecom technologies such as ISDN, VoIP (SIP / H.323) will be an advantage.
Location of Job
Baroda / Vadodara
To Apply
Send a copy of your resume and a great covering letter to jobs@phonon.in. Our selection process consists of:
Profile shortlisting when you send us your resume.
A round of written tests on analytical and functional skills.
Followed by one or two rounds of personal interview.
A round of CEO interview.
If you get through all four above, we extend an offer.